IT'S NOT RUGBY. YES WE'RE SURE
Women Play Too
We welcome all women to try Aussie Rules football activities as well. Be challenged to grow mind and body with other women doing the same via a new sport that is a ton of fun, whilst developing great friendships.

In footy at practice and in games activities include, running/jogging, coordination skills, stretching, hand-eye skill development like catching and kicking the Aussie Footballs at practice and in mini games.

All training sessions are catered for all activity levels and women and men practice together every night.

So even if you haven't been a sports woman before there is still much you can gain from joining in this different sport.

The best part also for many of our participants are the friendships that are forged and the encouragement players pass on to each other during practices and games.

It just a fun and unique thing to be a part of here in Rome GA.
Read More or Sign Up
The action you see here in this introductory video to Aussie Rules is from Australia itself and how the game is played at the elite level by 18 teams spread across the wide expanses of Australia.

Games here in the USA are of amateur status, however, the skills and rules seen in the video are exactly the same as here in the USA. Only slight modifications to field sizes and team sizes take place in travel team games of the USAFL of which the Redbacks are a member club.
PLAY SOCIAL GAMES WITH YOUR FAMILY
The Redbacks organize local social co-ed games of Aussie Rules football that the whole family can play. You can learn how to play the game in 5 minutes as well. Cool huh.

The modified rules of the Social game called AFLS, the S=Social meaning the game is safe for everyone. Players from 12 years of age to 72 years young have played Social Aussie Rules football here in Rome on Sunday afternoons and continue to play each week.

There is also no cost to these games, we supply everything, shirts, equipment and even after games refreshments. Some adult and some for the kids.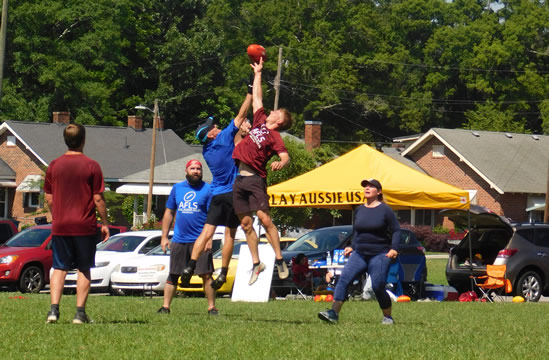 Social Game Sundays

Join the Rome Redbacks every Sunday at 3:00pm

Social games are held at the Riverside Baptist Church field in the Celanese neighborhood, Ash St NE Rome. On Sundays their is an intro session for the sport and the skills of the game prior, AFLS = Non Tackle Social Aussie Rules football. A game is safe for everyone to try out

Everyone is welcome to attend these games, and of course they are free to attend with no obligations.
Welcome to the Web - The Rome Redbacks

If you're up for a challenge or just a bit of fun, you've come to the right place. Getting involved in Aussie Rules Football whether social games, local games or in full scale travel team games, is one of the best decisions you will ever make.

With elements of 6 or 7 other sports it can be a game of endurance and skill but always a game where teamwork counts. Watch the intro video to see how the full game is played in Australia and come down and learn some of the skills that make this game so unique and so much fun.

The Rome Redbacks were established in 2018 and since they've seen a diverse group of people get involved and enjoy Aussie Rules Football, men, women, kids and families alike. It is also a game of inclusion, no matter your background or experience, there is a place for you with the Rome Redbacks.

We also have a great time doing what we do. Make new friends, have a laugh, bring the family and play a game together. We got you covered.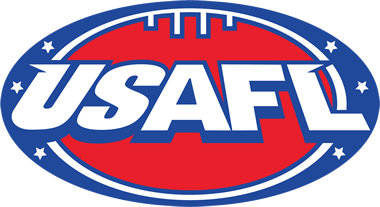 PLAY USAFL GAMES WITH THE REDBACKS
The Rome Redbacks have been a member club of the USAFL (United States Australian Football League) since 2018. First games of Aussie Rules Football were played here in the USA in the mid 90s.
The USAFL was officially established in 1997 and since then has grown far and wide to nearly all states and major cities around the country.
In October each year teams come together for the USAFL National Championships with up to 7 divisions of men's and women's teams participating and play off for National title recognition. Find out more about the USAFL on their website at
www.usafl.com.
Thank you to our Sponsors. Do business with them, they are awesome !!